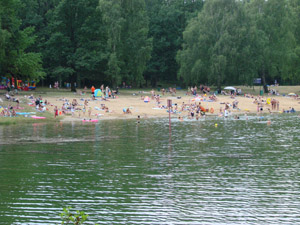 "Arturowek" recreational site is located in the northern part of Lodz, in the district of Baluty, on the edge of Lagiewnicki Forest, which is the largest forest complex in Europe, comprising over 1200 hectares. In the west, it is adjacent to Lagiewnicka Street, in the south to the Rogi and Powstania 1863 r. Districts, in the east to Modrzew, Moskule and Łodzianka Districts, and in the north to Skotniki, reaching the administrative border of the city of Lodz. It holds three reservoirs, with two adapted for bathing purposes and hiring of water equipment. Numerous walking and cycling lanes as well as many other attractions, such as playgrounds, picnic sites and accommodation and catering base, are found in the area surrounding the reservoirs. Management of this site facilitates any forms of leisure, both passive and active.

A yellow trail runs in the vicinity of the ponds in Arturowek, leading to the village of Lagiewniki through Lagiewnicki Forest. In the Lagiewniczanka River valley, at Wycieczkowa Street, two timber-made shrines dating back to the eighteenth century, which constitute a tourist attraction, are situated. One of the shrines, which is located approx. 100 metres from the trail, holds a well from which Lodz residents draw water.
Only a quarter of an hour is needed to cover the distance between Lagiewnicki Forest and the city centre. The name of the forest is derived from the settlement of Lagiewniki, which was probably founded in the 11th century. Skins, that is vessels made of timber and leather used to store and carry drinks, were supplied from this settlement to the princely court. The whole complex is located in the basin of the Bzura River, whose springs are found at the foot of Lagiewnickie Hills. The Bzura flows towards the west, creating three major Arturowek reservoirs. Their location in a picturesque valley in the forest stimulated development of the largest Lodz recreational and leisure base with a canoe landing stage. Below Arturowek ponds, the Bzura River changes its direction into the northern one, and in the vicinity of Marianka village, it joins the Lagiewniczanka, another river being a part of the forest complex.
In 1996, a fragment of the forest was turned into a nature reserve, that is Lagiewnicki Forest, comprising the space area of 69.85 hectares. A complex of natural phytocenoses comprising various forms of oak-hornbeam forest (Carpinetum) and Querceto-Ptentilletum albae constitutes the main goal of the nature conservation. On 31 December 1996, the whole complex was included in the Lodz Hills Landscape Park, which stretches among Lodz, Strykow and Brzeziny.
"Arturowek" and Lagiewnicki Forest represent a unique site for Lodz residents, where they may rest as well as get familiar with the most beautiful nature sites of the city.